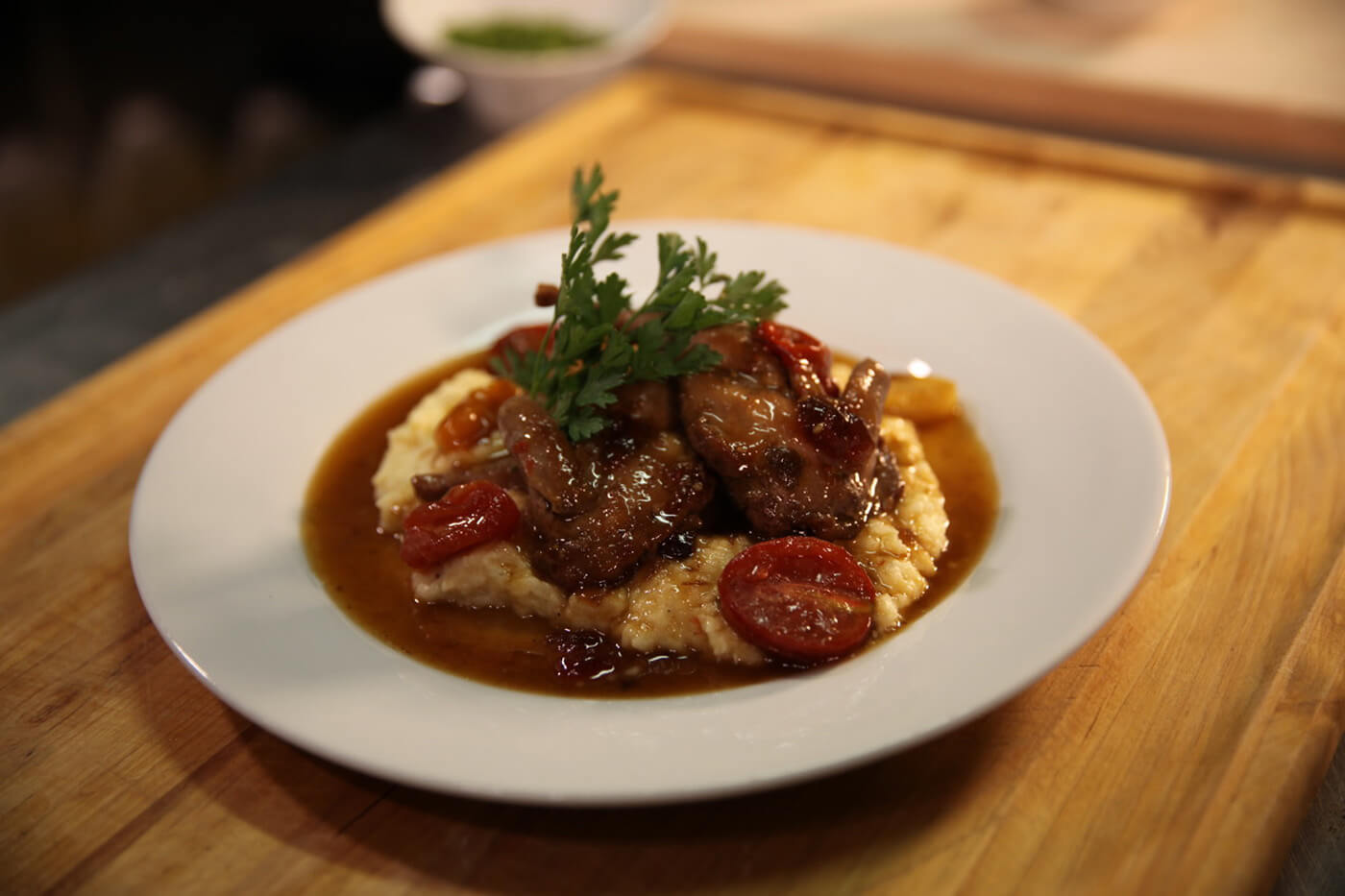 4 boneless quail
1 tsp. salt
1 tsp. black pepper
1⁄2 stick butter (cubed)
1⁄2 cup water
1⁄4 cup grape tomatoes (sliced)
1⁄4 cup plum jelly
Season all sides of quail with salt and pepper. Heat skillet on medium-low heat. Add butter to melt. Add quail skin side down. Let cook on each side for 3 minutes. Remove quail from skillet and set aside. Deglaze with water. Add grape tomatoes and bring to a simmer. Add quail back to skillet and top each piece with plum jelly. Let cook for 10 minutes. Yield: 4 servings.
GRITS
1⁄2 stick of butter (cut into 4 cubes)
2 cloves garlic
1 cup water
2 cups milk
1 cup of ground grits
1 cup heavy cream
1⁄4 cup chicken stock
1 tbsp. white pepper
1 tbsp. salt
1⁄2 cup cheddar cheese (grated)
1⁄4 cup parmesan cheese (grated)
Add two cubes of butter to a saucepan and melt on low heat. Sauté garlic for 2 minutes. Add water and
milk and bring to a simmer. Add grits and stir with a whisk to avoid clumps. Let cook for 15 minutes.
Add heavy cream, chicken stock, white pepper, and salt. Let cook for 5 minutes. Add cheeses and remainder butter. Let cook on low for 3 minutes.