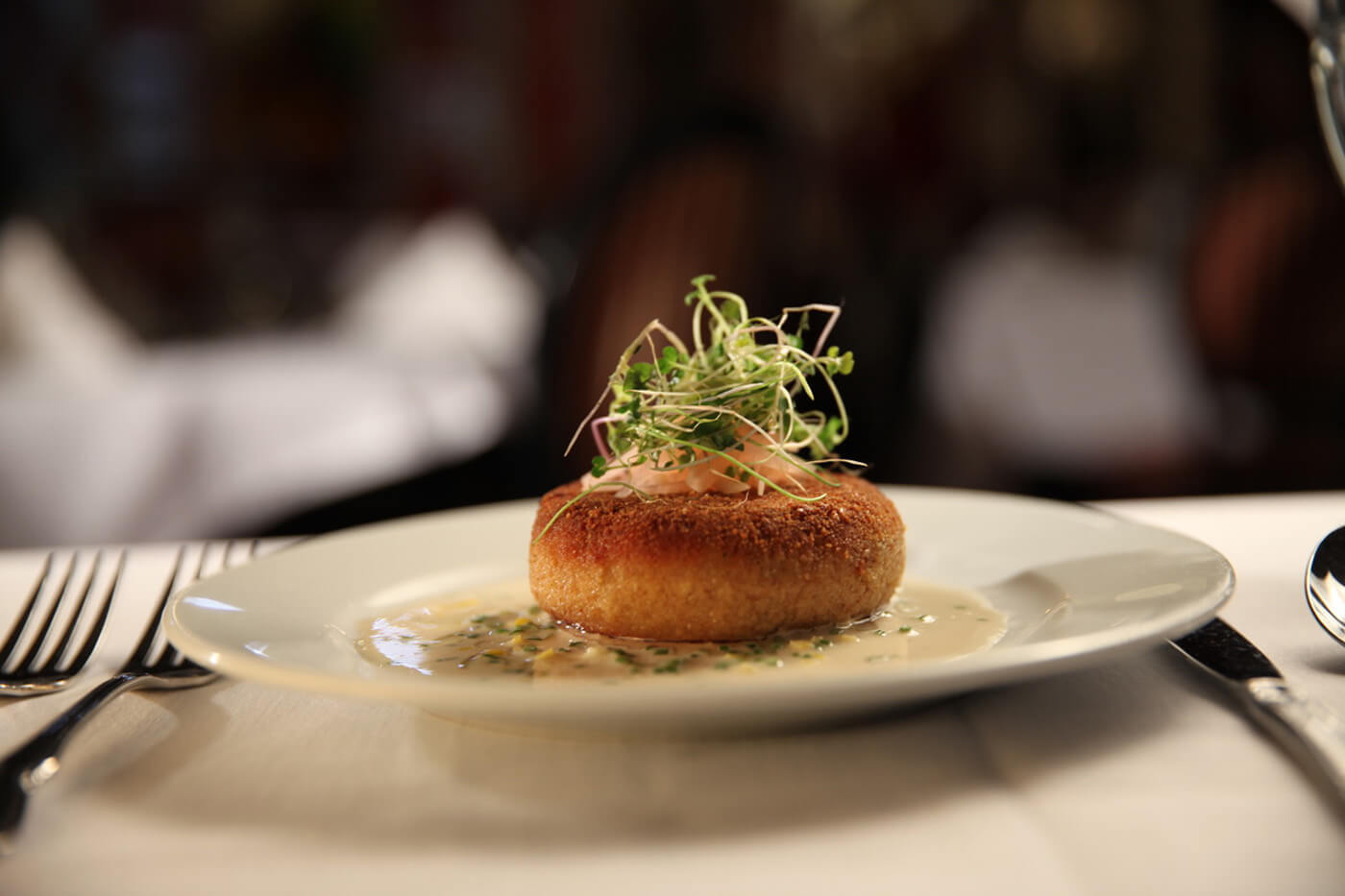 4 redfish fillets
1 tsp. salt
1 tsp. black pepper
1⁄2 tsp. cayenne pepper
1 lemon
1⁄4 stick butter
1⁄4 cup green onions (chopped)
1⁄4 cup parsley (chopped)
1 cup mayonnaise
1⁄4 cup creole mustard
2 eggs
1⁄2 tsp. Old Bay seasoning
1⁄2 tsp. creole seasoning
3 cups bread crumbs
Egg wash
1⁄2 cup oil
Preheat oven to 350 degrees. Coat redfish fillets with salt, pepper, and cayenne pepper. Squeeze lemon over fillets and add butter. Bake for 12 minutes. Remove from oven and let cool in refrigerator for 15 minutes.
After cooling, break up fish in a mixing bowl. Add green onions, parsley, mayonnaise, creole mustard, and 2 eggs. Mix gently. Add salt, Old Bay, creole seasoning, and 1 cup of bread crumbs. Continue to mix. Form 3 oz. balls and shape them into patties. Dip patties into egg wash. Dust patties with bread crumbs. Continue to form into patties. Repeat until all cakes are done.
Add oil to a skillet and heat on medium-low. Add cakes and cook for 3 minutes on each side, being careful to not burn oil. Replace oil as needed. Yield: 8-10 servings.
Fish Cakes with Citrus Beurre Blanc

EGG WASH
1 egg
2 cups milk
1⁄2 cup water
Add ingredients to a bowl and whisk.
CITRUS CHIVE BEURRE BLANC
3 shallots (finely chopped)
1⁄2 cup white wine
2 tbsp. lemon juice
1⁄4 cup heavy cream
4 whole peppercorns
1⁄2 stick of butter (cut into 4 cubes)
2 tbsp. chives (chopped)
1⁄2 tsp. lemon zest
In a small skillet on medium heat, add shallots, white wine, and lemon juice. Reduce for 5 minutes. Add heavy cream and peppercorns. Bring to a simmer. Once simmering, remove from heat. Whisk in butter, then strain through a mesh strainer. Add finely chopped chives and lemon zest. Serve with fish cakes.